Six of Crompton House's top musicians – Grace Barrett, Freya Liles, Jacob Moorhouse, Leo Pollitt, Hannah Bailey and Toby Stott – attended the week-long National Youth Concert Band course over the Easter holiday, culminating in a performance at the Royal Birmingham Conservatoire on Saturday 8th April.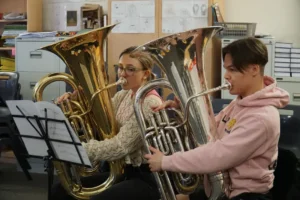 Over the course of the week, the students were taught by professional musicians from across the country in both whole band and instrumental section rehearsals to improve their technique and learn the new music. Leo and Hannah, both tuba players, worked with Nick Etheridge, a professional tuba player who has performed with orchestras and chamber groups across the world. Hannah said, "Working directly with Nick, and being part of a tuba and euphonium chamber group as well as the main band, built up my confidence in both playing and meeting new people".
Playing Johan de Meij's Lord of the Rings Symphony, along with October by Eric Whittaker and The Wind Racers by Jeremy Bell, the final performance was a true testament to the hard work the students had put in. Freya commented "The repertoire was challenging, not something I would have the opportunity to play in my local orchestra but also achievable to learn in the week".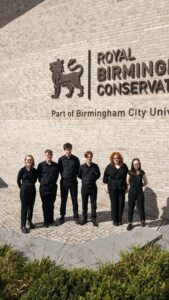 The opportunity to play in ensembles of such high standard has given our students a taste of what it is like to study at Music College, particularly for Freya and Grace, who are in Year 13, and are looking forward to starting at Conservatoire in September after completing their A Levels.
The students raised money towards their course attendance, selling cakes in the Sixth Form and were also kindly supported by Crompton and Royton Rotary, with the students playing at a Rotary Curry Night at the Blue Tiffin as part of their fundraising.
A recording of the final concert will be available on YouTube soon.