Aspiring Law students Hannah and Connor have been selected to take part in the Sutton Trust's Pathways to Law programme. The two-year programme offers students the opportunity to explore what entering the legal profession might look like for them.
Over the next few months, Hannah and Connor will have the opportunity to attend specific masterclasses, develop their personal statements and CVs, work on their interview techniques and take part in a university summer school.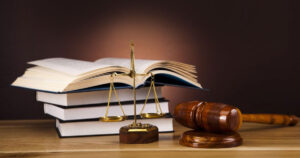 An additional part of the programme is a valuable work experience placement that our students will be completing over the February half term, with a mixture of virtual and (hopefully) in-person activities.
In order to take part in the work experience, the students had to research and choose from different Law firms, as well as prepare and send off their CV to the firms they were applying to.
Hannah chose DLA Piper as a result of their broad reach and international offices, where Hannah will be shadowing colleagues as they make their pitches, as well as gaining an understanding of what day to day life is like in their Manchester offices.
Connor picked Boult Wade Tennant, a firm that deals with patents and trademarks. During the placement he will be given case studies to work on, as well as following a day in the life of the Boult Wade Tennant staff.
Connor said "I chose Boult Wade Tennant as its main focus of law is corporate and business law which is what I would like to specialise in, as I would like to become a corporate solicitor. Another reason would be their international status, with offices not only in London but also Madrid, Frankfurt and Berlin which is not only appealing to myself but also signifies to me that they are clearly successful in the industry."
With both students having started the online programme of events, they are looking forward to getting stuck in to their work experience at half term as well as the other amazing opportunities that Pathways to Law offers them.