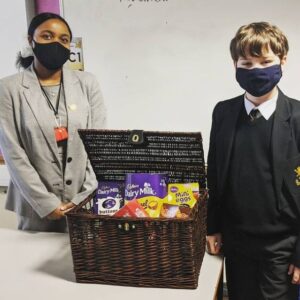 Congratulations to Liam in 7 Co 1 who was the lucky winner of the Sixth Form Red Nose Day raffle.
Liam won an amazing hamper of Easter eggs and other chocolate treats!
Amour from the Year 13 Student Management Team presented Liam with his prize this morning, then stowed the hamper safely at Reception for Liam to pick up at the end of the day.
Happy Easter to Liam and thank you to all those who entered the Red Nose Day raffle and bought sweets on the day, raising over £500 for Comic Relief.