Crompton House Sixth Formers took part in this year's Cards for Kindness scheme, a programme launched four years ago by Lancashire County Council to help counter the loneliness experienced by people in care homes.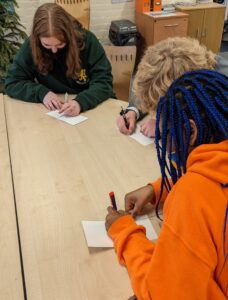 Lancashire and South Cumbria Health Care Partnership reports that "loneliness is a growing problem among older people, and in care homes it can be a particularly difficult issue to resolve. Figures from Age UK show that 200,000 older people have not had a conversation with friends or family for a month, and 60% of people in care homes get no visitors at all."
Writing over 500 cards as part of the last session in this term's PSHE programme, the Sixth Formers added personalised messages about what they enjoyed at Christmas, with some including corny cracker jokes to raise a smile. This year's Christmas Cards for Kindness is focusing on the theme of "what warms your heart at Christmas", inspiring students to share family traditions and favourite festive food. The aim of the messages is to bring back happy memories for the nursing home residents, and spark conversation about the festive season.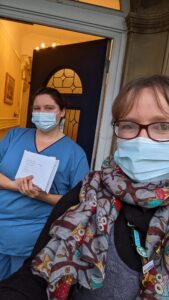 Mr Rich Smith, Head of Sixth Form said "We were really pleased to take part in this year's Cards for Kindness campaign and are planning for it to become a CHS Sixth Form Christmas tradition. It was great to see our students so invested in writing the cards, especially the different messages included on each one."
The cards were distributed to local nursing homes in Shaw, Royton, Oldham and Rochdale this week, with staff at the homes delighted to receive the packs of envelopes.