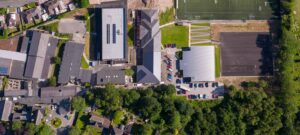 Although the enrolment process was a little different this year, it was lovely to see our new Year 12 students on 20th August to help them start their Sixth Form journey.
Having collected their GCSE results – many from Crompton House, but also from a wide range of other local schools – students registered with the Sixth Form team and were reminded of the key details about the start of term:
Year 12 start on Wednesday 9th September at 8:35 am – they need to come to the Sixth Form Centre where they will gather before assembly.
Our Sixth Form uniform is a grey suit – matching jacket and trousers/skirt.
Most of our new students have already chosen their options, but any changes are now subject to course availability – if you want to change your options now, please contact Mrs Atkins, the Sixth Form Administrator.
For students wanting to get a good start with their A Level studies, the pre-course material for all subjects is available on our site – click here and then scroll to the bottom of the Welcome Day page to find your subjects.
We look forward to seeing all our new Year 12 students on 9th September.
Any students who have not yet enrolled, or wish to make a late entry to the Sixth Form should contact Mr Smith, the Head of Sixth Form.