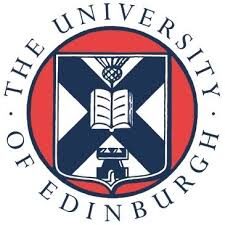 Two former Crompton House Sixth Form students, Isobel and Holly, are starting at the University of Edinburgh Veterinary School in September. Both studied Biology and Chemistry A Levels at Crompton House, with Isobel taking Maths and Holly choosing Geography. Both also achieved A*s in their Extended Projects while at Sixth Form; Isobel wrote her EPQ essay on a little-known deep sea octopus, looking at the reasons for it's chemiluminescent behaviour, with Holly studying the ethics of dog breeding and the genetic diseases it can exacerbate.
Before they leave for Edinburgh, we asked both students why they want to become vets and what advice they had for future veterinary medicine applicants.
What made you decide you want to be a vet?
Holly: I want to be a vet to be able to progress the profession and work at the forefront of new discoveries. I hope to design new techniques, methods and materials that will improve an animal's life in my time as a vet. For me, being a vet is about saving animals lives and improving their quality of life where possible, as people heavily rely on animals on a daily basis as companions, for work, or as a source of income. I believe that animals deserve the same level of care as humans and being a vet is how we deliver this to them.
Isobel: I always knew I wanted to work with animals, couple that with an interest in biology and a deep satisfaction from figuring out and fixing things and being a vet just seemed to be the perfect mix of all three. Also, although it sounds a bit strange, I find animal innards fascinating!
What kind of work experience did you do to prepare for your application?
Isobel: I did quite a few weeks experience in small animal and exotic vets practices, and I got lambing and dairy farm experience. I also volunteered at an animal rescue centre (which had just about everything under the sun) and a cat rescue centre, and I also started working at an alpaca farm, which I've continued to do during my gap year.
Holly: I did just over two weeks clinical experience at two small animal practices and a mixed large animal practice that was for farm and equine. I then did 3 weeks husbandry at a Welsh mountain pony stud, a farm during lambing and a cattery.
I would definitely recommend having at least five weeks of work experience, this is what most universities set as the minimum, but I would aim for more and get as many weeks as possible. At the moment it is more difficult to find work experience, but you have to persevere. Places like Knowsley Safari Park are running their weekend academy program for prospective vets. Also, there is a new Future Learn online course for students who are hoping to apply for Veterinary Medicine – this year some vet schools are accepting evidence of completion of that course as part of their normal work experience requirements because they know it has been more difficult to find.
What was applying for Veterinary Medicine like?
Holly: The process is a lot more intense as you apply for the early deadline – 15th October – and you will hopefully have multiple interviews from November to March. Your friends are also more likely to get more offers than you but don't let that discourage you as most people are lucky to get one offer for veterinary medicine due to the small number of universities that offer the course and the number of applicants they get each year.
Isobel:  I felt applying to vet school was a lot more deadline intensive than other courses, even after you have done your UCAS application, there are quite a few forms to fill in for each uni that need to be completed at a similar time so it can seem a little bit overwhelming in that respect. Also, there's definitely a lot more going on for vet applicants than for non-interviewing courses. However generally I found the universities were quite good at communicating information and, especially when it came to interviews, I was pretty well informed about things so I wasn't having to chase things up.
What should future applications think about when writing their personal statement?
Isobel: Big yourself up, but don't put anything in that you're not prepared to talk about. Don't be humble about the things you've done; even if it was something you don't think much of there's still probably some skill or something you can pull out of the experience, but if you don't feel comfortable talking in some detail about it then don't mention it because at interview they do sometimes ask about things in your statement.
Holly: Don't say the basic things every student will say, especially the opening line of 'I have always wanted to be a vet' or 'ever since I was little I have wanted to be a vet', this doesn't demonstrate your passion and will bore whoever is reading your personal statement. Instead try to open with a topic you have researched or what you want to achieve when you are a vet.
What other advice would you give to future applicants?
Isobel: Soak up as much as you can during work experience. Take every opportunity you can; stay late to watch the extra operation that's going on, get stuck in at farms, and, most importantly, ask any questions you have because I've found the majority of people will be more than willing to take the extra time to explain or show you how to do something (I managed to get a vet nurse to dissect an amputated leg with me, you'll be surprised at what you'll be able to do if you ask) and I've found that information has been invaluable both in interviews and just generally on other placements.
Holly: Firstly, make sure Veterinary Medicine is something you are passionate about and know you definitely want to do – the course is very intense and is 2 years longer than most courses. If you don't have the passion the interviewers will see it and you won't get a place.
Go to university open days as soon as possible, this takes the stress off you in Year 13 when you are writing your personal statement.
Make sure you keep up to date with news in the vet community and the news in general, I would suggest regularly looking at The Guardian app. I would also definitely look at Vet Record on a regular basis as it is a magazine vets commonly use and trust for information. It has some free articles available on their website and these are updated every time they publish a new issue.
We are incredibly proud of Holly and Isobel and wish them all the very best as they start their course.