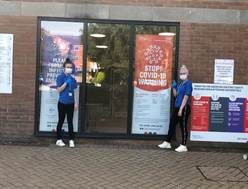 Crompton House Sixth Form students Hannah and Ella joined a team of Emergency Responder Volunteers over their summer holidays, where they played an essential part in providing an extra layer of support to the staff and service users at The Royal Oldham Hospital.
Hannah & Ella's duties involved requesting that all visitors adhere to the strict infection protection control measures by asking that they sanitise their hands and wear a face mask.  After confirming that the patients were permitted to be on the hospital premises, the students then escorted the patients around the hospital site to their appointments.
Due to the restricted visiting policy, Hannah & Ella also helped to keep patients connected with their loved ones during their stays in hospital. The girls recorded and delivered numerous letters and care packages to inpatients at the hospital.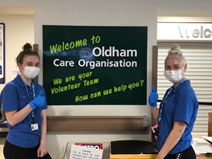 Ella and Hannah also responded to the needs of the wards by transporting requested goods and items such PPE equipment.  They also helped to keep any 'hot spot' areas clean, by regularly wiping down  surfaces, door handles and wheelchairs etc.
Trudy Taylor, Head of Patient/Service User Experience at the Northern Care Alliance NHS Group said "We have been very grateful for contribution Hannah & Ella have made to volunteering. The challenges presented from coronavirus have meant most people wanted to stay home, yet Ella & Hannah stepped forward and were willing to support the NHS during their time of need, which is an admirable quality indeed."