Our OACT Changemakers, Tia and Maddie, are asking CHS students and staff to bring in donations for Oldham Foodbank this week.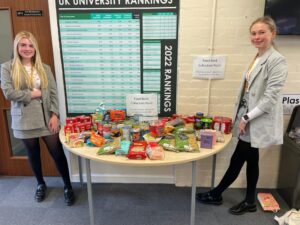 The girls took part in NCS in the summer and have subsequently joined the Oldham Athletic Communities Trust Changemakers scheme, a group of young people committed to making a difference in their local area.
The Changemaker Team have a big challenge – can they fill up three wheelie bins at the Latics ground with donations to support the Foodbank over the half term holiday?
With donations also being accepted at the Oldham vs Yeoville match on Saturday, Tia and Maddie are hoping that the CHS donations will be a great start to this month's Food Drive.
With the cost of living rising, Tia and Maddie are emphasising that every tin or packet of long shelf-life food will make a difference. Donations can be left on the table outside the Sixth Form office until Friday morning.
Suggestions for food that could be donated:
Tins of soup
Tins of vegetables, especially potatoes
Tins of fruit
Packets of biscuits
Jars of jam or marmalade
Boxes of cereal
Packets of pasta and rice
Bags of sugar
Packets of tea or coffee