We have received the below information about an amazing opportunity for Gold DofE award holders and participants. There's a short deadline, so if any of our ex-students (aged 18-25) are interested they need to apply using the link below by 20th July!
It's going to be a busy summer this year as we ramp up to the start of the Birmingham 2022 Commonwealth Games, starting on 28 July. Birmingham is welcoming around 6,500 athletes from around the world to take part in the biggest UK sporting event since the London 2012 Olympics!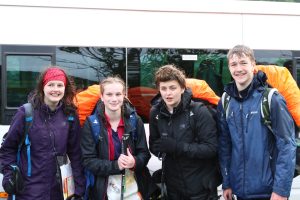 As part of the Games, we want to let you know about an exciting event coming up that you can be involved in. On Saturday 6 August 2022 we are bringing together 222 DofE participants and Award holders from across the UK and giving them the opportunity to take part in an exclusive DofE event in Birmingham, as part of the Games.
The event will help deliver on a key legacy pledge from Birmingham 2022 – to engage and inspire 1 million children and young people.
If you are interested in being a part of this very special event, please visit our landing page Here  for more information and fill in our Expression of Interest form by Wednesday 20th July 2022.
We look forward to hearing from you. If you have any questions, contact centralengland@dofe.org
Participants will be selected from applicants using the following criteria (the first two are essential):
Be a DofE Gold Award Holder or participant.  
Be over the age of 18. 
Have an interest in developing social and/or sports leadership skills.
Have a passion for how we can all work collaboratively to utilise the Commonwealth Games to improve access to sports, art, and culture for all.
The opportunity is open to young people from marginalised backgrounds as defined by the DofE:

Living in an IMD 1-3 area.
With a Special Educational Need or Disability (England, Wales and NI) or an Additional Support Need (Scotland).
Part of an ethnic minority group.

Be from a Youth Charter priority area: Greater London, West Midlands, Greater Manchester, Merseyside, Sheffield, Leeds, Newcastle, Glasgow, Belfast and Cardiff.
In addition, this is open to DofE Youth Ambassadors.