Year 12 student Caillin, who is studying Government and Politics, Philosophy and English Literature at Crompton House, has been accepted into the highly competitive OxNet Philosophy and World Religions course for 2020.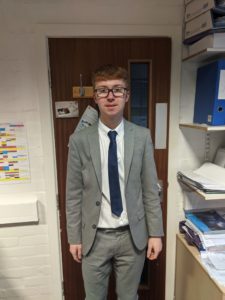 Run via the Goldsmiths' Sutherland Centre for Philosophy & World Religions at Ashton Sixth Form College, this course accepts up to twenty Year 12 pupils from the North West through a year-long, intensive, academic course themed around a major research project hosted at Pembroke College, Oxford.
The theme for this year is 'Holy Wars: Religion and Conflict in the Modern World' touches on Christianity and the First World War, the Holocaust, Black liberation, Judaism and Islam. Students on the course will attend evening seminars in Manchester, as well as study days, conferences and a summer school in Oxford.
Caillin had to write an academic essay entitled "William Paley, Natural Theology (1802) Is this a good argument for the existence of God?", competing against students across the North West for his place on the course.