Year 12 started their Post-18 journey on 3rd March by visiting the UCAS Higher Education Convention in Manchester.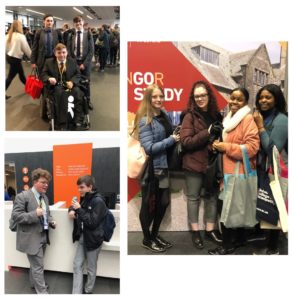 Held at the Manchester Central exhibition centre, it gave the students the chance to speak to representatives from over 150 different universities, as well as apprenticeship providers and other post-18 opportunities. This included both 'traditional' universities and specialist providers including conservatoires offering courses in music, drama and dance.
With our Sixth Formers considering courses as diverse as Medicine and Music Production and ranging from Architecture to Zoology, this was an important starting point in their thinking about where they might move on to when they leave Crompton House in 18 months time.
As university Open Days start coming up over the next few months, the Convention gave students the chance to shortlist universities and consider which they would like to visit in person.
Returning to school clutching prospectuses, the students had clearly made the most of their time!