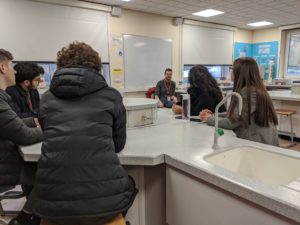 CHS Alumnus Reece is an F1 Junior Doctor in London, having completed his postgraduate Medical Degree at Bart's and The London. He returned to school on 10th March to speak to our aspiring medics in Years 11, 12 and 13.
Although Reece's undergraduate degree was in Chemistry at the University of York, he realised that he wanted to pursue a medical career having talked to friends who were aiming for the profession themselves. His journey wasn't straightforward, however, as his first application for postgraduate medicine wasn't successful. Instead of giving up, he got a job as a Healthcare Assistant, something he highly recommended for our students. This gave him an insight into the challenges faced by staff working in the NHS, as well as increasing his confidence and allowing build the communication skills required for the medicine course.
As well as sharing details about his course and subsequent assignments in A&E and geriatric medicine, Reece encouraged the students to think about why they want to study medicine – to think about this when they approach work experience, volunteering and when they write their personal statement. Answering the students' questions, Reece helped our students prepare for what they will need to do to succeed in their medical careers.