An incredible 11 students at Crompton House Sixth Form were awarded A* grades in their Extended Project Qualifications (EPQs) this year, with all 25 students who completed the qualification achieving grades A*-C.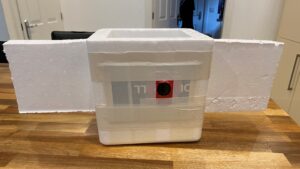 One Sixth Former, Alex Brierly, was not only awarded the top grade for his work, he was literally aiming for the stars with his project in which he built and launched a weather balloon to the edge of space to measure the curvature of the Earth. During his launch, Alex narrowly avoided disaster as the air currents pushed his balloon towards the Humber Estuary and the North Sea. Fortunately, it returned to the ground safely and he was able to recover the video camera he had launched with the balloon to document the flight, as well as other equipment being used to track the balloon's trajectory. Reflecting on the project, Alex commented "The most valuable skill I have developed as a result of my project is learning how to plan effectively. As part of the planning, I also built on my decision-making skills, especially regarding the payload itself, which wouldn't have been as successful if I'd have chosen the wrong equipment or deadlines." Highlights from Alex's flight can be seen on YouTube at https://youtu.be/SsWrKatfNTA.
Further A*s were awarded to Sahira Bakht, Madison Hylands, Callum Lancaster, Evelyn Larder, Arianne Makinson, Elziabeth Martin-Nixon, Sofiyah Muzafar, Anita Okunde, Thomas Rigg and Holly Rogers. The students' projects included an analysis of the British electoral system, discussion of the importance of centring Black and indigenous people in climate justice, and investigations into the evolution of muscles for mastication and the use of psychiatric medication for the treatment of mental illness.
Throughout their projects, the students gain valuable skills in research and evaluation, becoming experts in their chosen field. As a result, the EPQ is highly valued by universities and employers, with many CHS students discussing their projects at interviews. Dr Whitworth, Deputy Head of Sixth Form and EPQ Centre Coordinator said, "the determination to complete their work despite restrictions posed by Covid was truly demonstrated in the rich array of projects submitted by our students. The outstanding results are a testament to their hard work."
All students at Crompton House Sixth Form have the opportunity to complete an EPQ, learning skills that are highly valued by universities. The students complete independent projects which can be in the form of an artefact, such as Alex's balloon launch, or an academic essay.