Year 12 student Tom, who was elected to Oldham's Youth Council in the Royton, Shaw & Crompton district in the recent elections, had been voted by the council as Deputy Member of the Youth Parliament.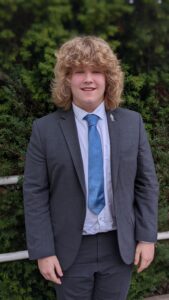 In his new role, Tom will be working with Oldham's representatives in the UK Youth Parliament to make voices of local young people heard at a national level.
They are already starting to think about Oldham's contribution to the Youth Parliament debate, due to be held later this year, and promoting the Make Your Mark campaign which allows under 18s to highlight the topics they care about.
Tom said "I was really surprised to be elected Deputy Member of Youth Parliament for Oldham. I've only been part of the Youth Council for a short while, so it was great to be voted in to this role. I'm looking forward to working with the MYP and representing young people in Oldham."
Congratulations Tom and good luck for your new position.