CHS Alumnus Isobel is a veterinary medicine student at the University of Edinburgh. In her spare time, Isobel volunteers with a local alpaca herd, so when the local vet came to castrate some of the males of the herd, Isobel was more than willing to assist in the operation.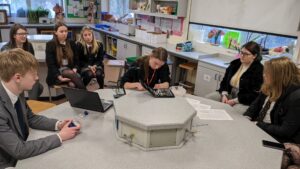 She got in contact with Dr Pannell and offered to bring in the 'offcuts' for a unique dissection experience for CHS students in Year 11, 12 and 13.
Having watched closely as Isobel showed the anatomy of the testes, and then how to best dissect one, it was over to the students to replicate what they had seen, learning valuable skills in manipulation of the dissection equipment as well as taking care with the dissection itself.
Although the study of reproduction, including anatomy, is a part of the Biology A Level course, the opportunity to dissect mammalian reproductive organs is a rarity – and one that our students will no doubt remember!
We are hugely grateful to Isobel for the offer and memorable demonstration (and to her family, for not minding the specimens being kept in the fridge overnight between the castration and Isobel's visit to school!).
More pictures, including of the students carrying out the dissection, can be found on our Instagram account.