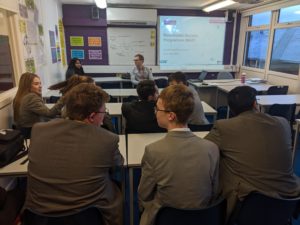 On 12th November, Alex and Nimah from Manchester University's Access Program visited Crompton House to speak to Sixth Formers about how MAP supports students with preparation for university.
As well as hearing from the MAP representatives, Jen in Year 13 encouraged current Year 12s to apply. Jen herself completed the MAP course in 2019 and has already received reduced offers from the University of Manchester to read Economics in 2020.
MAP originally appealed to Jen with the enticing offer of lower grade entry requirements to study at Manchester, along with a financial incentive for successful MAP graduates when they take up their place at the university, the course gave her some incredible opportunities that have shaped her future plans.
Attending compulsory events at the University, including on research and referencing, strategies for learning and the University Life conference, Jen also completed an academic assignment, supported by a researcher at the University. As Jen is planning to study Economics in the future, she was paired with two researchers, Beatriz Rubio-Huete and Rose Atkins, who gave Jen advice on how to plan and structure her essay, as well as how to find appropriate source material.
Jen commented "The academic assignment was definitely the most valuable part of MAP. It seemed incredibly daunting at first but both Beatriz and Rose made the process much easier. The assignment has made me feel more confident in completing other pieces of academic writing such as my History NEA and my EPQ and the researching and referencing skills I have acquired will be very useful in university life I believe. The assignment has allowed me to see where my genuine passions and interests in Economics lie, which has been helpful in choosing which university courses are right for me."
The MAP wasn't all work though – events such as a library-themed Escape Room gave the participants the chance to get to know each other better and enjoy the social side of university life.
In their talk at CHS, Alex encouraged students to apply for the 2020 MAP – either choosing the Medicine, Dentistry or General strands, depending on their future interests.
Students wishing to apply need to read the MAP eligibility criteria, collect the necessary information, and apply online here, by 13th December 2019.